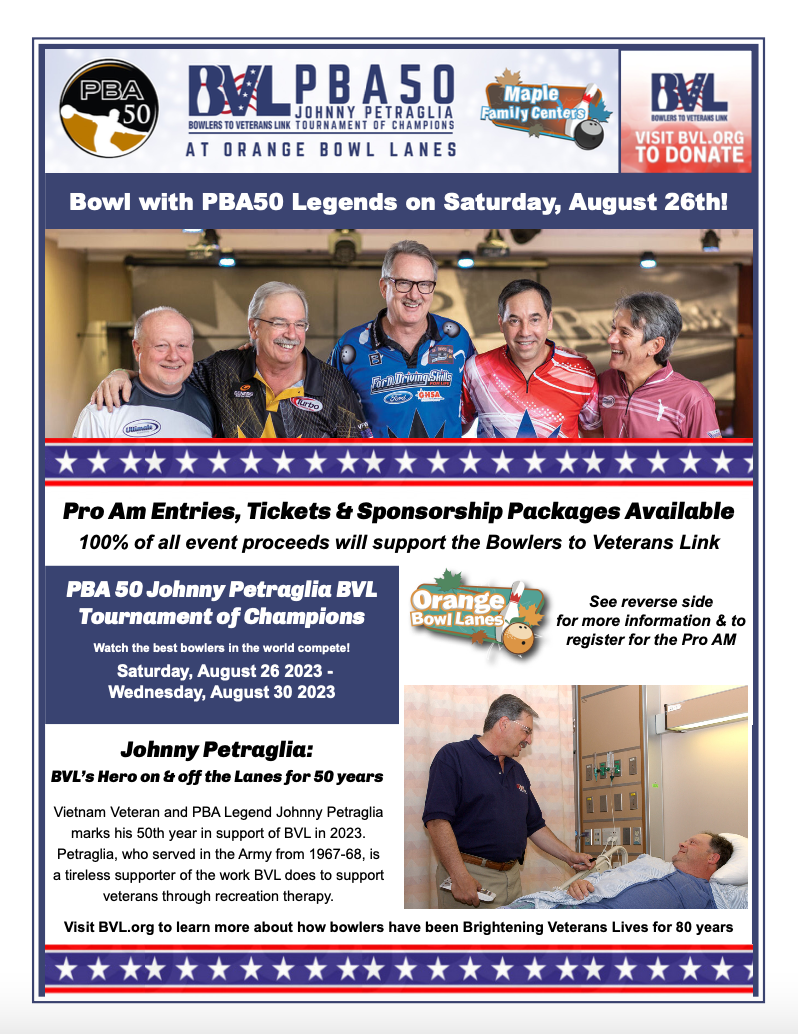 Tournament held at Orange Bowl Lanes in Lakeland, FL
Bowl with PBA 50 Legends on Saturday, August 26th
Time: 6:00pm
Your $75 entry fee includes a generous donation made in your honor to the Bowlers to Veterans Link!
Upgrade your package to include a high-end reactive BVL Performance ball for an additional $149.99 plus tax!
Tournament held at Orange Bowl Lanes in Lakeland, FL
Just a $50 donation to BVL for an all access pass! Watch the PBA50 Legends compete any time Saturday, August 26th - Wednesday, August 30th
Schedule:
August 26th:

Practice Session: 2pm-5pm
Pro-Am Squad: 6:00pm

August 27th and 28th:

7 games of Qualifying
2 squads: 9am & 2pm

August 29th & 30th:

6 games of match play
2 squads
August 29th: 9am & 2pm
August 30th: 10am & 3pm

August 31st:
2023 BVL Tournament of Champions
Thank you to all who participated in the 2023 BVL Tournament of Champions, as well as In-League Qualifying running from November 2022 - April 2023. With all of your kindness & generosity, Maple Family Centers is on pace to raise over $70,000 in donations to help continue Brighten Veterans Lives each and every day through the BVL this bowling season!
The Bowlers to Veterans Link is a national nonprofit charity (501/c-3) which supports America's veteran and active duty service men and women. It is also the sport of bowling's oldest and most successful charity – raising more than $35 million dollars for America's active duty service men, women, and Veterans.
Since 1942, BVL has worked to identify programs and services to brighten the days and boost the spirits of our recuperating service men and women. BVL provides the 'extras' not funded by the government which helps speed recuperation and improve morale. Some of the programs, like the annual VA/BVL Veterans Bowling Tournament, are decades-old traditions (now in its 71st year), while others, like the "Welcome Home: We Salute You" events and Project Military Music, were just recently launched. BVL prides itself on identifying the needs of our veterans and providing programs to fill those needs in a cost-efficient and effective manner.